Halloween is right around the corner, and many out there are no doubt already planning elaborate costumes for neighborhood parties or trick-or-treating.  Some might even be tempted to give those costumes an extra air of authenticity by using decorative colored contact lenses.  While blood-drenched vampire eyes or glow-in-the-dark lizard lenses might seem like a harmless way to bring the whole ensemble together, these novelty contacts are potentially much more dangerous than most people realize.  At Georgia Eye Physicians and Surgeons, Dr. William Segal and Dr. Marc Lay have been treating all kinds of vision problems and eye injuries for more than a decade and in that time they have helped many whose eyes have been damaged by these seemingly harmless accessories.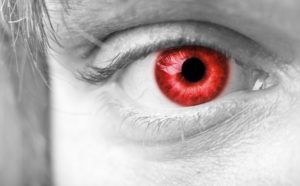 Contact lenses are delicate medical devices, intended to be used as part of an ongoing treatment for a medical condition.  As anyone who wears contacts regularly can tell you, they require diligent contact care and maintenance in order to keep them safe and sanitary.  Individuals who purchase colored contact lenses from a novelty store or web site are not provided with proper education and support, and so they commonly fail to take precautions that are necessary in order to avoid transferring bacteria into the eye via the contact lens.  When this occurs, the resulting infection can grow and multiply very rapidly, sometimes in as little as twenty-four hours.  Without prompt diagnosis and treatment, these bacterial infections can result in conjunctivitis (pink eye) or more rarely in corneal ulcers that could cause permanent blindness.
Moreover, purchasing costume contacts from anyone other than a licensed provider is dangerous because every eye is unique, and so there is really no such thing as a "one-size-fits-all" contact lens.  At Georgia Eye, when we make contacts for our patients in our on-site optical center, we take precise measurements of the eye's surface, using specialized instruments and scanning equipment.  The lenses are then custom-crafted by an experienced specialist so that they fit the eye seamlessly without causing damage or discomfort.  Lenses that are not properly fitted may scratch the cornea, impede the necessary transfer of oxygen and moisture, or even cause blood vessels to become inflamed.  Any of these side-effects can lead to pain, serious eye damage, and even permanent vision loss.  Even if you have perfect vision, it is vital that you get an eye exam and a prescription from an eye-care professional before you put any kind of contact lens into your eye.
Many people believe that decorative lenses do not require the same level of care or consideration as a standard contact lens because they can be purchased over-the-counter or on the internet, but this is absolutely not true.  In fact, in the United States, it is illegal to sell colored contact lenses without a prescription.  Only after performing a full eye exam can a trained eye care specialist craft designer contact lenses that are as safe and functional as they are interesting or attractive.  If you would like to schedule an appointment for a comprehensive vision exam from Dr. William Segal or Dr. Marc Lay, please contact us at Georgia Eye Physicians and Surgeons and make an appointment. Also, don't forget to follow us on Facebook, Twitter, and Google+ to get more helpful tips to keep your eyes healthy and your vision sharp.