At Georgia Eye Physicians and Surgeons, we know that the single most important factor in maintaining lifelong visual health is the regularly scheduled eye exam.  Eyes can frequently change over time, and updating your prescription regularly is the best way to make sure your vision stays sharp.  Moreover, many eye and vision problems can be progressive and some have no obvious symptoms during the early stages, so only an optical examination can catch them before they can seriously damage your vision.  However, we also understand that the winter holidays can be an expensive time or year.  So, for a limited time, our on-site consultative optometrist Dr. Marc Lay will be offering $35 basic eye exams as a way to make sure that you and your family have a bright and happy new year.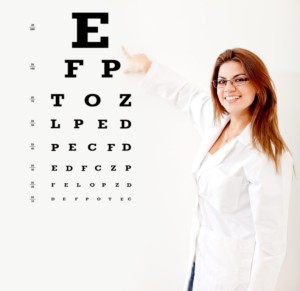 Every pair of eyes is unique, and the frequency of ocular examinations should depend on the patient's age, past ocular history, medical history, family history of eye disease, and the specific symptoms that have already been encountered.  The American Academy of Ophthalmology (AAO) recommends that all men and women undergo a complete comprehensive eye exam at least once between the ages of 20 and 29, at least twice between the ages of 30 and 39, and a baseline eye disease screening at age 40, the time when early signs of disease and changes in vision may start to occur.  Based on the results of this baseline screening, an ophthalmologist will prescribe the necessary intervals for follow-up exams, but seniors age 65 and over should have complete eye exams every one to two years to check for cataracts, glaucoma, age-related macular degeneration, diabetic retinopathy and other eye conditions.
Dr. Marc Lay is specialized in ocular disease and vision therapy services and has extensive experience managing and treating eye diseases and conditions such as glaucoma, cataracts and macular degeneration.  Depending on the eye exam you choose, he will perform a number of specialized tests to evaluate your vision and the health of your eyes.  Once we have determined your prescription, our optical center offers a wide selection of corrective eye solutions to suit your personality and visual needs.  Should you elect to wear contact lenses additional tests can also be performed in order to determine the precise size and type of lenses that you require.
Even the most basic of eye exams can provide extremely helpful diagnostic information to help treat vision problems and eye diseases.  If you have any questions or concerns about your vision, or if you would like to schedule an eye exam with Dr. William Segal or Dr. Marc Lay, please contact Georgia Eye Physicians and Surgeons today to make an appointment. Be sure to follow us on Facebook, Twitter, and Google+ for more information on how to keep your vision healthy.