There can be no question that contact lenses continue to be extremely popular.  More than 36 million people in the United States alone use them to correct common refractive vision errors, like myopia (nearsightedness) or astigmatism, and at Georgia Eye Physicians and Surgeons, we offer a wide selection of contact lenses to fit your eyes and lifestyle.  Unfortunately, despite their widespread use, many people still do not fully understand everything that is required to keep contact lenses healthy and effective.  A study presented at the American Academy of Optometry annual meeting suggested that even though over 85% of patients surveyed believed that they were following the recommended lens wear and care practices, in fact the level of actual good compliance was only approximately 2%.  Here are some important tips to keep in mind when caring for your contact lenses.
Avoid Unpurified Water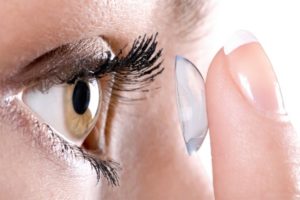 Although simple water may not seem like much of a threat, water that has not been specifically purified can potentially contain a wide variety of bacteria.  These bacteria pose virtually no threat if ingested, since they are destroyed by the natural action of the digestive system, but if introduced to the eye they can easily cause a serious eye infection that could result in significant vision loss.  Do not clean or store your lenses in common tap water and avoid wearing your contact lenses while swimming, participating in water sports, or even while taking a shower.
Use Contact Solution Correctly
During cleaning, we recommend gently rubbing your contact lenses with your fingers (after carefully washing your hands of course) and then rinsing the lenses with solution before soaking them.  This "rub and rinse" method is considered to be a superior method of cleaning, even if the solution you are using is a "no-rub" variety.  Contact lens solution can become contaminated with bacteria, so take care when handling it.  Do not allow the tip of the solution bottle to come in contact with any surface, and keep the bottle tightly closed when not in use.  Do not re-use old solution or "top off" the solution in your lens case and do not transfer contact lens solution into smaller, travel-sized containers.  Finally, always remember that neither saline solution nor saliva is considered an effective or approved disinfectant and neither should be used to clean your contact lenses.
Avoid Sleeping in Your Lenses
When you're awake, your contact lenses are actually supposed to move a bit — about a millimeter with every blink — so that the cornea is able to get oxygen.  When you are sleeping with your contacts in, the contact lens is unable to move because your eyes aren't blinking.  This restricts the flow of lubricating tears and prevents the free exchange of oxygen, potentially allowing the eyes to dry out. If left untreated, chronically dry eyes have an increased risk for developing serious eye infections and even long-term damage to the surface of the eyes themselves in the form of corneal ulcers.  Fortunately there are a variety of different contact lens types, including disposable single-use lenses, which are extremely convenient and effective for all different vision problems.
If you believe that you might need contacts, or have additional concerns about caring for the contacts that you already own, please feel free to contact Dr. William Segal and Dr. Marc Lay to schedule an eye exam.  Be sure to follow us on Facebook, Twitter, and Google+ for more information on how to keep your vision healthy.