Everyone here at Georgia Eye Physicians and Surgeons is anxiously looking forward to a brand new year, but we also wanted to take a moment and look back at everything we have accomplished. For more than a decade, we have been proud to be able to provide a full array of routine eye care, eye disease treatment, and refractive eye surgery to patients from throughout the Atlanta area and beyond. We know that none of this could have been possible without your support, and for that we just wanted to say thank you. It has been our honor and privilege to be able to serve this fine community, and we look forward to being able to do so for many years to come.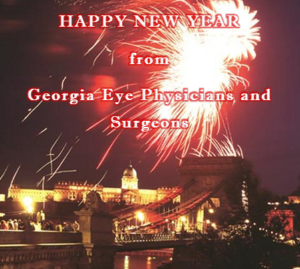 Dr. William Segal and Dr. Mark Lay have always believed that innovative research and education are among the cornerstones of quality eye care, and so we are extremely excited about all of the new breakthroughs in optical and vision enhancing technology that are just around the corner. This year, Georgia Eye was honored to be the only practice in Georgia chosen to participate in a year-long research study testing the effectiveness of a new form of glaucoma treatment. If successful, this quick and simple treatment could potentially provide relief for months or even years after only a single office visit.
Additionally, as a board certified ophthalmologist, Dr. Segal has continued to use our advanced LenSx® cataract laser to perform precision cataract surgery customized to the specific contours of each individual eye as well as advanced LASIK vision correction procedures. In our state of the art on-site Optical Center, headed by Comprehensive Consultative Optometrist Dr. Marc Lay, we are excited to have been able to help so many people overcome visual difficulties with eyeglasses or contact lenses and achieve a more satisfying quality of life.
The future has never looked brighter at Georgia Eye Physicians and Surgeons, and we would like to thank all of you for your continuing support. Whether it's routine vision screenings for prescription eyewear, comprehensive medical eye examinations to diagnose ongoing vision problems and medical conditions, or ocular surgery to address serious eye damage, the staff at Georgia Eye is proud to be able to accommodate all your vision needs. We hope that we have been able to bring just a little bit more light into your worlds and wish you a safe and happy holiday season and an outstanding 2017!