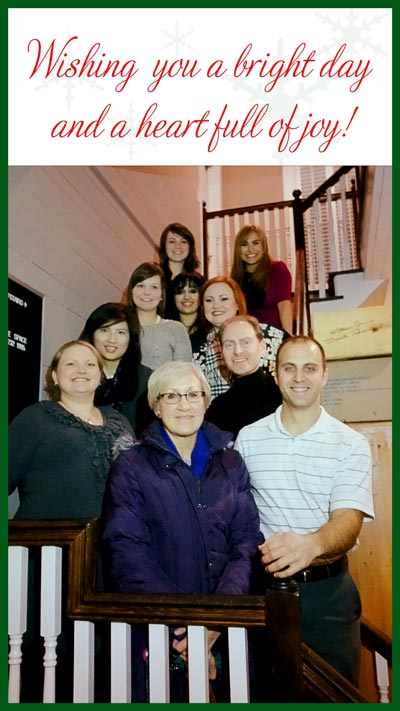 As the holiday season approaches and we take a moment to reflect on the past year, all of us at Georgia Eye Physicians and Surgeons would like to express our deepest gratitude to our amazing patients, many of whom have shared their stories in our regularly featured Spotlight Patient blogs.  It has been our honor and privilege to be able to serve this fine community, and we look forward to being able to do so for many years to come.
This past year has seen many exciting developments, as well as a number of new breakthroughs in optical and vision enhancing technology.  Using our state-of-the-art LenSx® cataract laser, in concert with the Verion™ image guided system, board certified ophthalmologist Dr. William Segal has performed numerous intraocular lens replacement procedures with unparalleled levels of precision.  Similar advancements in LASIK vision enhancement surgery have made it possible to customize each procedure to the specific contours of each individual eye, consistently providing exceptional results.  Finally, we are also proud to report that our on-site Optical Center, headed by our Comprehensive Consultative Optometrist Dr. Marc Lay, has been able to help many overcome visual difficulties with eyeglasses or contact lenses to achieve a more satisfying quality of life.
On a more personal note, this past May the entire Georgia Eye team had the opportunity to once again take part in the annual Walk to End Lupus Now, which was held in Piedmont Park by the Lupus Foundation of America (LFA).  This last year's Atlanta Walk, which proved to be one of the largest LFA-sponsored walks in the nation, was a rousing success and we are grateful to all of those who contributed to the cause and came out to support our efforts.
The future has never looked brighter at Georgia Eye Physicians and Surgeons, and we thank you all for your support.  We hope that we have been able to bring just a little bit more light into your worlds as well.  Don't forget to follow us on Facebook, Twitter, and Google+ for more information on how to keep your vision healthy, and from all of us here at Georgia Eye, may you enjoy a safe and happy holiday season!