To limit the spread of coronavirus in accordance with the recommendations of the Centers for Disease Control (CDC) and other health organizations, we are implementing new office policies for the foreseeable future. We have also reviewed the suggestions of the American Academy of Ophthalmology (AAO), American Society of Cataract and Refractive Surgery (ASCRS), and World Health Organization (WHO) to devise these guidelines. Please note that: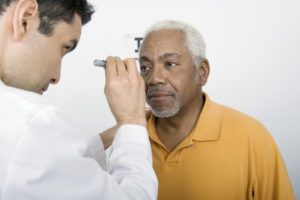 You may not be aware that you have been exposed to the virus. The majority of people who contract coronavirus will exhibit only mild symptoms and may present no symptoms at all. Therefore, you should limit contact as much as possible regardless of your health status or age.
People with diabetes, lung disease, heart disease, or compromised immune systems, as well as people over age 60, are the groups most vulnerable to COVID-19's most severe effects. This may include life-threatening conditions such as pneumonia. The risk of death from COVID-19 rises sharply past age 50.
These precautions are intended to slow the spread of the coronavirus and bring an end to the pandemic as soon as possible, thus protecting our older and immunocompromised community members.
With all this in mind, please observe our new policies and guidelines around COVID-19:
If you feel sick or suspect close contact with coronavirus, call your primary care doctor, tell them your symptoms, and follow their directions. They may advise you to stay home.
If you have any symptoms of COVID-19 (fever, cough, trouble breathing/shortness of breath, or other flulike symptoms) or suspect you may have come into contact with coronavirus, please call our office to reschedule any eye appointments.
Come to Georgia Eye Physicians & Surgeons alone or with only one friend or family member.
Call to coordinate waiting for your appointment in your car. You may go straight from your vehicle to the exam room to limit potential exposure to the virus.
All "pink eye" (conjunctivitis) patients will be seen at the end of the day. Conjunctivitis may indicate a viral infection or make a virus more contagious.
Keep your distance from others in the Georgia Eye Physicians & Surgeons office (and everywhere you go). The CDC recommends people stay at least six feet apart whenever possible.
We have enacted the CDC's precautions and cleaning/screening recommendations, so we will perform even more stringent cleaning between patients than usual.
Please continue to stay updated on the CDC and federal government's recommendations and symptoms list. The situation is changing quickly.
Everything surrounding COVID-19 may seem scary, but it's crucial to make these adjustments in order to protect our older and immunocompromised community members. Our primary concern is and always has been the health and safety of our patients and community. Please contact Dr. William Segal or Dr. Marc Lay at Georgia Eye Physicians & Surgeons by calling (678) 584-0400.