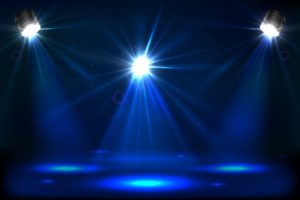 Welcome back to our Spotlight Patient series, where we take some time to let our patients tell their stories from their experience here at Georgia Eye Physicians & Surgeons. This month, we will be focusing on Vanessa, a patient who first visited Dr. William Segal after her previous eye doctor had retired. Seeking relief from chronic dry eyes that had irritated her for years, Vanessa came to our office after being recommended to by her co-workers.
Vanessa is a new grandmother, avid reader, and crocheter. She also works as an office administrator, so needless to say, having healthy eyes is a must for her. In addition to suffering from dry eye syndrome, Vanessa also has an auto-immune disorder which causes scleritis, an inflammatory disease that affects the white outer coating of the eye.
Having treated many patients with similar vision and eye issues in the past, Dr. Segal recommended inserting plugs into Vanessa's tear ducts to help alleviate her dryness. The results have been fantastic and Vanessa has been overwhelmed by the amount of relief this has provided her. Additionally, during her initial appointment, Dr. Segal detected cataracts, and is currently monitoring their growth to determine the most appropriate treatment option for Vanessa in the future. To learn more about Vanessa's experience here at Georgia Eye Physicians & Surgeons, listen to her tell it in her own words:
"My experiences with Dr. Segal and his staff have been excellent! My first impression of their office was observing their very good office management. My appointment times were kept with very little waiting time, which is such a plus during a busy work week. The staff is very pleasant and professional, and I leave their office feeling that I'm being well-cared for and appreciate their concern for the health of my eyes. I saw both Dr. Segal and Dr. Lay regarding my scleritis flare-ups that had been non-stop for several months. Once it was apparent to them that there were underlying issues, they recommended that I see a rheumatologist to effectively treat my condition. My treatments all took place during the initial COVID-19 shelter-in-place order and it was so nice to have Dr. Segal's positive encouragement during the entire process. The most remarkable thing is how Dr. Segal was able to follow up with me and "virtually" examine my eyes via Telemedicine appointments. The whole experience was great!"
When asked if she would come back to Georgia Eye Physicians & Surgeons for her future vision needs, Vanessa gave us an emphatic "yes". "Dr. Segal continues to care for my eyes on a regular basis, and I'm so grateful to my co-workers for recommending him to me. I always receive top-notch, five-star service!" Thank you to Vanessa and all of our other patients who have taken time to leave us such kind and generous words over the years. If you would like to tell your own story, or if you would like to schedule an appointment with us, please contact Georgia Eye Physicians & Surgeons today. You can also follow along with us on Facebook and Twitter for additional patient stories, eye care tips, and much more.