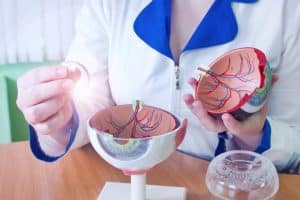 Of all the most common conditions and diseases that can affect a person's eyesight, glaucoma is among the most serious. Patient education and the prevention of vision issues are critical to us here at Georgia Eye Physicians & Surgeons. This is why we thought it would be helpful to discuss glaucoma in more detail and explain what people can do to prevent it.
Glaucoma is a degenerative condition that slowly damages the eye's optic nerve, an important link between the eye and the brain. Unfortunately, due to the subtle nature of the condition, people with glaucoma typically begin losing vision before they even recognize that there is any issue with their eyes. The most common form of glaucoma is known as primary open-angle glaucoma. This occurs when fluid in the eye does not drain properly, causing pressure to build inside the eye that can damage the optic nerve. People with primary open-angle glaucoma often experience issues with their peripheral vision at first, before their central vision is ultimately affected.
Due to the nature of the condition, it is impossible to recover any vision that is lost through glaucoma. This is why prevention is so important. The most helpful thing that a person can do to help prevent glaucoma is to keep up with their annual vision exams. Doing so can help make note of any subtle changes or degradations in vision and help get treatment started before glaucoma worsens. People with a higher risk for glaucoma, including those with diabetes and anyone with a family history of the condition, should begin being tested annually once they turn 35.
We recommend the following additional tips that may be able to help people fight off glaucoma:
Maintaining a healthy weight by eating right and exercising regularly
Keeping tabs on your blood pressure
Wearing protective eyewear while playing sports or performing home improvement projects to protect against eye injuries that can lead to certain forms of glaucoma
Protecting your eyes from sunlight with sunglasses or a hat while outdoors
Understanding your risk factors and speaking with your ophthalmologist about glaucoma
If you or a loved one has been diagnosed with glaucoma, we offer several effective treatment options. This includes our in-office SLT laser, the outpatient Iridex CYCLO G6™ Glaucoma Laser System, medical topical drops, and other potential options. For more information on glaucoma or to book an eye care appointment with Dr. William Segal, Dr. Marc Lay, or any of our other eye care providers, please contact Georgia Eye Physicians & Surgeons today. Don't forget to follow along with us on Facebook for more eye care tips, news, and much more.