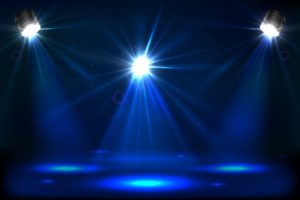 Welcome to the latest installment in our Spotlight Patient series. It's also a pleasure to be able to highlight the positive impact Dr. William Segal and our staff have been able to make on the lives of our patients, but this entry is extra special. This month, we will be focusing on Margaret, a patient who came to visit us early last year after experiencing pain and discomfort in one of her eyes. However, little did she know that her preliminary visit with Dr. Segal would only be the beginning of her journey.
Margaret lives in metro Atlanta with her husband and two young children. She enjoys reading, traveling, and spending time with her family. In March of last year, she began experiencing severe pain in her right eye that simply could not be ignored. After finding our office online and being impressed with Dr. Segal's credentials, she paid us a visit. Margaret then underwent what she referred to as "the most thorough eye exam I have ever experienced", and was diagnosed with uveitis, a condition that causes inflammation in the middle layer of the eye known as the uvea.
Margaret was prescribed eye drops with steroids, which effectively eased her pain and inflammation. However, Dr. Segal thought there was something peculiar going on with Margaret that he couldn't quite put his finger on. Fearing a potential autoimmune disorder, he recommended that she visit her primary care doctor as well as a rheumatologist. "He saw something that other doctors had not been able to." Two weeks later, what Margaret describes as "my nightmare" began.
"I woke up one morning with an intense burning sensation all over my body. Over the next 6 months of excruciating pain, I visited about 30 doctors of all specialties, but no one could pinpoint the reason for my burning and pain. I seriously felt like I could die if I didn't find relief soon. Finally, I visited a doctor in Decatur who instantly knew that it was Lyme disease causing my issues. It turns out that my uveitis was merely a side effect. Dr. William Segal at Georgia Eye Physicians & Surgeons was the first doctor to anticipate that something was wrong beyond my eye pain and I credit him with setting me on the right path to the answer I needed. He is genuinely attentive and seems like he is very interested in actually trying to learn from his patients. After my ordeal was over, he told me about using my story to help the next patient like me with similar symptoms."
We asked Margaret if she would come back to Georgia Eye Physicians & Surgeons for her future vision needs and she answered emphatically. "I'm so grateful that he gave me the warning that no one else could. I will be coming back to Georgia Eye for many years to come." We wanted to take a moment to thank Margaret, as well as all of our other patients we have heard back from over the years. If you would like to share an experience of your own, or if you would like to schedule an appointment with us, please contact Georgia Eye Physicians & Surgeons today. And don't forget to follow us on Facebook and Twitter for additional patient stories, eye care tips, and much more.