Here at Georgia Eye Physicians & Surgeons, we take great pride in our track record of successful surgeries, cutting-edge vision correction, and customer satisfaction. We treat patients for a variety of different eye conditions, from astigmatism and nearsightedness to cataracts and glaucoma. If a patient's eye-health condition can be treated with surgery or corrective lenses, he or she can typically find relief relatively quickly and easily at our practice. We're fortunate to have access to the latest technology and training in the most advanced techniques, both here at Georgia Eye, and in the United States in general. Sadly, not every place in the world is so fortunate. That's why our own Dr. William Segal is travelling to Honduras for the first week of March in 2020 to perform cataract surgery for charity.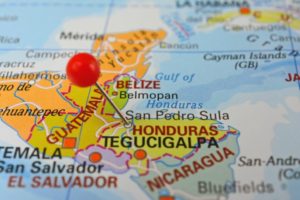 There are about 3 million cataract surgeries each year in the United States alone, making it the most commonly performed surgery in the country. Cataracts are even more common worldwide. The World Health Organization (WHO) estimates that there are 20 million people throughout the world suffering from this condition, giving it the dubious distinction of being the leading cause of treatable blindness on Earth.  What makes this especially tragic is that, with the right tools and expertise, cataracts can usually be corrected with $1000 (usually at the most) worth of resources in about an hour.
If cataracts are such a widespread problem throughout the world, why choose to perform surgeries in Honduras? Well, we have to start somewhere, and Honduras has the lowest cataract surgery rate in Latin America. With their insufficient ophthalmology infrastructure, lack of ophthalmologists, and high poverty rates, Hondurans simply don't have access to many of the resources we take for granted in the United States. Their healthcare system is overwhelmed with people suffering from life-threatening diseases, infections, and injuries, so even something as important as vision health is often a secondary concern. Over 160,000 Hondurans are blind from cataracts, and during a relatively small window of time, we can use our expertise, experience, and resources to make a huge difference in the lives of some of those people.
At this point, you might be wondering if there's anything you can do to help. One quick, easy action you can take right now is to donate to the foundation sponsoring our trip, SEE International. With their specific goals and demonstrated results, SEE International is a great organization to donate to. We'll also be setting up a fundraiser that you'll be able to donate to directly, specifically for our trip, in early 2020.
If you're interested in learning more about the worldwide efforts to combat cataracts, would like to donate to SEE International, or just want to schedule an appointment for diagnostic eye exam, please contact Georgia Eye Physicians and Surgeons today. Be sure to follow Dr. William Segal and Dr. Marc Lay on Facebook and Twitter for more eyecare information, fun facts, and the latest news and updates about eye health.