As the weather starts to get warmer, everyone here at Georgia Eye Physicians and Surgeons is looking forward to having the opportunity to take part, once again, in the annual Walk to End Lupus Now, being held in Piedmont Park by the Lupus Foundation of America (LFA) on Saturday, May 2nd, 2015.  Last year's Atlanta Walk proved to be the largest LFA-sponsored walk in the nation, hosting more than 8,000 walkers in an effort to raise funds and awareness for lupus, an unpredictable and potentially fatal autoimmune disease that currently affects over 55,000 Georgians.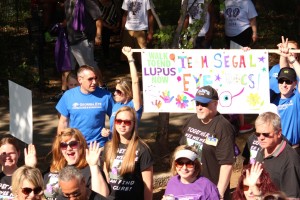 The Lupus Foundation of America is a nation-wide organization devoted to "solving the mystery of lupus while giving caring support to those who suffer from its brutal impact."  They sponsor research, education, and advocacy programs to improve the quality of life for all people affected by the disease.  Ninety percent of every dollar donated stays in Georgia, providing free statewide lupus programs and resources, including a support group network, nine statewide symposiums and seminars, and six college forums.
Dr. William Segal, Dr. Marc Lay, and the entire Georgia Eye Physicians and Surgeons family have maintained a longstanding relationship with the LFA, with Dr. Segal personally serving as a member of its Medical Advisory Board for almost 10 years.  At last year's Atlanta Walk, the Segal Eye Docs team was recognized as the largest medical walk team in attendance, and raised $2,298 for the cause, placing it in the top 10% of donors overall.  This year we hope to accomplish even more!
Lupus is a poorly understood disease, and one that has garnered little in the way of public attention.  However, it is Dr. Segal's hope, as well as the hope of his team and the Lupus Foundation as a whole, to let Georgia know that this is a worthy cause and to "take Lupus awareness from a whisper to a shout."  If you are interested in learning more about how you can contribute or even participate with us, check out Dr. Segal's team page or go to LupusGA.org.  Don't forget to follow Georgia Eye on Facebook, Twitter, and Google+ to stay updated on what's going on with our team.