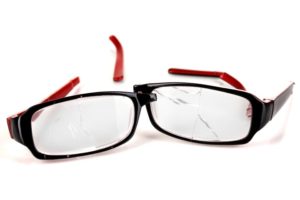 Breaking or damaging your glasses may not be as terrifying a prospect as it was when you were a kid, but it's still a major inconvenience. Many people don't realize that they're practicing bad habits with their glasses, and damaged eyewear can put one in a costly, inconvenient, or perhaps even dangerous position. In a recent blog, we discussed the importance of cleaning your glasses & frames and provided a detailed step-by-step guide on how to properly clean them. This week, we're broadening our scope and supplying our readers with some effective habits for cleaning your eyeglasses. If you wear glasses, you've likely learned some of these rules the hard way—hopefully, this list can help you avoid learning anymore tough lessons:
Good Habits to Adopt:
Clean your lenses and frames regularly. See our recent blog, How to Properly Clean Your Glasses, for a step-by-step guide from Georgia Eye Physicians & Surgeons.
Use both hands when you remove your glasses. Putting pressure on one side of your frames can misalign them, especially after repeatedly doing so.
Always lay your glasses face-up.
Always keep your glasses in a snug-fitting hard-shell case when you're not wearing them, especially if they're being transported.
Invest in an eyeglass repair kit and tighten the screws in your frames regularly.
If you notice your frames becoming misaligned or spreading apart, and tightening the screws doesn't fix the problem, don't get creative and try to fix them yourself. Bring them to Georgia Eye Physicians & Surgeons, and we'll adjust them using special techniques and instruments.
Bad Habits to Abandon:
Do not use excessively hot water, window cleaner, ammonia, bleach, or any other cleaners that aren't meant for glasses to clean your lenses. These substances can damage lens coatings. Also, don't use spit to clean your glasses—this will likely just make them dirtier.
Do not wipe your lenses without rinsing them first. Imperceptible bits of dust, dirt, and other debris can scratch your lenses if you start rubbing them in.
Do not leave your glasses in a hot car.
Do not dry or clean your lenseswith a tissue, paper towel, napkin, piece of toilet paper, or unclean piece of fabric (which includes the shirt you're wearing). Many cleaning cloths have rough surfaces that can cause scratches, and many types of tissues and toilet paper have lotion or other substances that can smear on your lenses. Furthermore, your clothing is almost certainly harboring microscopic dust, dirt, etc.
At Georgia Eye Physicians & Surgeons, we provide all the information and assistance you need to make sure your vision is as clear as possible. If you're interested in any of the many services we offer, contact Georgia Eye Physicians & Surgeons to schedule an appointment today. Be sure to follow Dr. Segal and Dr. Lay on Facebook and Twitter.