At Georgia Eye Physicians & Surgeons, we're proud of the trust we've earned from our patients. We've established lasting relationships with countless great people, many of whom have been returning to us for several years. We understand how precious your vision is, and we work hard every day to make our patients feel that they're in capable, caring hands. That's why we were so gratified to hear that Jean—one of our patients who has shown anxiety about undergoing eye procedures—wanted to share her of love of Georgia Eye as our eye surgery spotlight patient this month.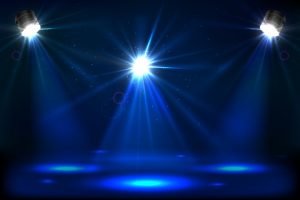 Many years ago, Jean spent her childhood in an orphanage, where there were limited healthcare options. For various reasons, the quality of the medical care available to Jean and the other children in the orphanage was sometimes less than optimal. As a result, Jean had some negative experiences with medical professionals growing up, resulting in what she calls an "excessive fear" of doctors. Fortunately, at Georgia Eye, we specialize in making patients feel safe and comfortable.
Jean started seeing Dr. William Segal when a friend referred her a couple of years ago. As a diabetic, she needs to have her eyes checked regularly, and having just moved to the area, she was looking for an eye doctor she could trust. After a few years of caring for Jean's eyes, Dr. Segal discovered that she had developed cataracts. Cataracts are quite common among aging adults and come on gradually, so Jean didn't notice the issue herself. She was very nervous about having surgery to correct the issue, and it took her a year to work up the courage to go through with the procedure. When Dr. Segal & his hospital staff eased her anxieties and were finally able to perform the surgery, Jean found herself free of vision problems she hadn't even known she'd had.
"I'm ecstatic with the results," Jean says. "I can see street signs from a distance now. I never knew my eyes were this bad, and it's amazing to be able to see things from so far away." Although she had trouble staying still during her cataract surgery, Jean says that the team at Georgia Eye Physicians & Surgeons made her feel that she was in good hands. "Dr. Segal is wonderful," she says. "I love him, and his office staff is exceptional. They're not only exceptional, but they also make me laugh a lot. It's fun to be in that sort of environment. They knew I was nervous, due to my history. I was shaking so much, but Dr. Segal & the hospital staff knew exactly the right things to do and went above and beyond what most would. If I ever have to have another eye surgery in the future, I will only have it done by Dr. Segal. No one else."
A very active retiree, Jean has two grandchildren whom she loves to play and cook with. She also loves to play games such as Canasta & Rummikub, do crafting, take sewing lessons, and discuss literature in one of the several book clubs she belongs to. She got used to doing these activities as her cataracts were slowly developing, so it took an eye exam at Georgia Eye Physicians & Surgeons for her to even realize there was a problem. Because many eye conditions can develop gradually, it can be easy to get used to their attendant vision problems. Therefore, it's important to have regular eye exams to catch eye-health problems early.
We're truly honored to have the opportunity to share the stories and kind words of our patients with our readers. If you're currently a patient of Dr. William Segal or Dr. Marc Lay and, like Jean, would be interested in sharing your experiences, or if you'd like to learn more about us, please contact Georgia Eye Physicians & Surgeons today. Be sure to follow us on Facebook and Twitter for more patient stories, tips for healthy eyes, and the latest eye-health news and updates.