Taking proper care of your eyes can be expensive.  That's why, for a limited time, Dr. William Segal and Dr. Marc Lay at Georgia Eye Physicians and Surgeons are among the only doctors in the Atlanta area offering the Ultimate Lens Package, a special deal on top-of-the-line Essilor eyeglass lenses!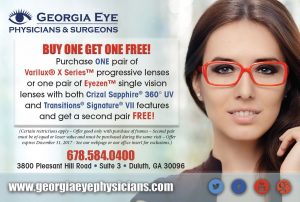 Essilor uses the newest and most innovative lens technologies to deliver an unmatched combination of vision clarity and eye protection into a single pair of lenses.  With fifteen separate patents, their Varilux® X Series™ Progressive Lenses are at least ten years ahead of the nearest competitor and, unlike other progressive lenses, can actually provide THREE different levels of vision correction.  Their Eyezen™ Single Vision Lenses combine three technologies to meet the needs of today's modern lifestyle: defending against digital eye strain, reducing reflections for best-in-class transparency and clarity, and protecting against exposure to harmful blue light.
Now through December 31, 2017, patients who purchase an Ultimate Lens Package can get a second pair of qualifying lenses FREE with the purchase of a second pair of frames. It takes just three simple steps:
FIRST: After undergoing a diagnostic eye exam, choose from either Varilux® X Series™ Progressive Lenses or Eyezen™ Single Vision Lenses, depending on your individual needs.
SECOND: Add two state-of-the-art features: Crizal Sapphire® 360° UV to reduce reflections from all directions for less distracting glare, better aesthetics, enhanced UV protection, and safer nighttime driving and Transitions® Signature® VII to adjust from fully clear indoors to the perfect tint outdoors, blocking dangerous UV rays and filtering harmful blue light.
THIRD: Purchase a second set of frames and choose your second pair of free lenses from a wide range of lens options, including Varilux®, Crizal®, Transitions®, Eyezen+, Xperio UV™, or even polarized sun lenses, depending on your initial purchase. Our experienced optical technicians can work with you to find the best qualifying lens options for you.
This offer is only good on specific Essilor products and certain restrictions do apply.  The second pair of lenses must be of equal or lesser value, both pairs must be purchased during the same visit, and the price of frames is not included.  Special financing options are also available through the Essilor Power of Vision program, which offers six-month interest-free credit through GreenSky Patient Solutions™.  You can apply online, through the Green Sky mobile app, over the phone, or here in our office when you purchase your lenses.  If you would like to learn more about the Ultimate Lens package, or if you have any concerns about your eyesight, please contact Georgia Eye Physicians and Surgeons to make an appointment.  Follow us on Facebook, Twitter, and Google+ for more information on how to keep your vision clear and healthy.