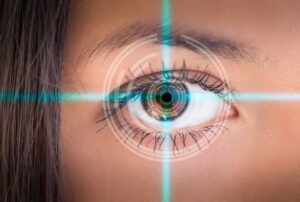 Over the last couple of decades or so, LASIK eye surgery has gone from a curiosity to a household name. And with good reason. LASIK procedures are incredibly helpful for treating a wide variety of common vision issues including nearsightedness (myopia), farsightedness (hyperopia), and astigmatism. However, despite how commonplace it has become, there is still much that the average person may not understand about LASIK vision correction. This is why our board-certified ophthalmologist here at Georgia Eye Physicians & Surgeons wanted to answer some commonly asked questions about LASIK surgery.
Question #1: How do I prepare for LASIK surgery?
Before a patient can be deemed a good candidate for LASIK surgery, we will need to perform preoperative tests to screen for glaucoma, cataracts, and other conditions that can affect the success of a potential procedure. We advise all LASIK candidates who wear contact lenses to switch to eyeglasses for 2-4 weeks before their pre-surgery evaluation and surgery. We will fully discuss all necessary preparation measures during the LASIK consultation appointment in our office.
Question #2: Will I need to stay in the hospital following my LASIK procedure?
Thankfully no. At Georgia Eye Physicians & Surgeons, we perform all LASIK procedures at our surgery center in Sandy Springs. That way, no hospital trip will be required. Additionally, LASIK is an outpatient procedure and patients are free to recover from the comfort of their own homes following the surgery.
Question #3: How long will the results of my LASIK procedure last?
The results achieved with LASIK surgery are often very long-lasting. In fact, it's not uncommon for the vision correction achieved with LASIK to last decades. While it's true that some age related changes can occur over time, our patients are often incredibly satisfied with the longevity of their results.
At Georgia Eye Physicians and Surgeons, we understand that every patient is unique. We work hard to create customized treatment plans based on every person's specific needs. For more information or to book an appointment to discuss LASIK with our expert ophthalmologist, Dr. William Segal, please contact Georgia Eye Physicians & Surgeons today. Don't forget to follow along with us on Facebook for eye care tips, news, and much more.