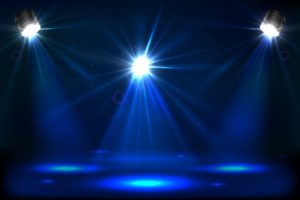 Over the past few months, we've been using our Spotlight Ophthalmology Patient series to hear from our patients firsthand about their experiences and stories with Dr. William Segal, Dr. Marc Lay and the Georgia Eye Physicians & Surgeons staff. This month, we're excited to share a testimonial from Rebecca, a longtime patient of Dr. Segal who underwent cataract surgery after years of dealing with declining vision problems.
Rebecca is originally from Buford, Georgia and recently retired from AT&T, where she worked as an operations manager. In her position, having good eyesight was essential and she constantly felt like she had to prove herself among her younger colleagues who had an easier time seeing than she did. Rebecca found herself wearing glasses and constantly worried that she would forget them or they would hinder her from performing her job. She also saw halos on objects at night and had terrible night vision.
At one of her routine eye appointments, Rebecca brought up how she finally wanted to do something to permanently treat her declining vision. Having performed hundreds of cataract surgeries, Dr. Segal assessed her unique situation and recommended ReStor® multifocal lens implants to correct her vision. Rebecca explains as she recounts her experience:
"I have been a patient with Dr. Segal for almost a decade now. He and his staff have always been awesome and easy to talk with. I've never had a problem booking an appointment or waiting a long time to be seen.
When Dr. Segal first mentioned the surgery, I was a bit nervous because other people had told me that cataract surgery was scary and not worth it. I'm forever happy that Dr. Segal calmed my nerves and reassured me because the procedure ended up being one of the best things I ever did! I was surprised by how easy and quick the surgery was and how fast I saw results. Since my procedure, I haven't worn glasses once and navigating life has become so much easier.
One of the main reasons why I've stayed a patient for so long is due to how thorough Dr. Segal is. During my first eye exam, he told me that I had a freckle in one of my eyes. Out of the many eye doctors I've visited, no one except Dr. Segal ever noticed this. Experiences like this are what differentiate Dr. Segal from others and show me just how much care and attention he gives his patients."
When asked if she would return to Georgia Eye Physicians & Surgeons for her future eye needs, Rebecca responded with an enthusiastic "yes!" After mentioning her excitement for her upcoming appointment in December, Rebecca told us that she recommended Dr. Segal to a friend who is driving all the way from Alabama to see him for cataract surgery later this year.
We are thankful to serve Rebecca and grateful for all our patients that have taken the time to leave us such kind and thoughtful feedback over the years. If you would like to share your story or book an appointment with us, please contact Georgia Eye Physicians & Surgeons today. In addition, you can follow us on Facebook and Twitter for more patient stories and eye care tips.