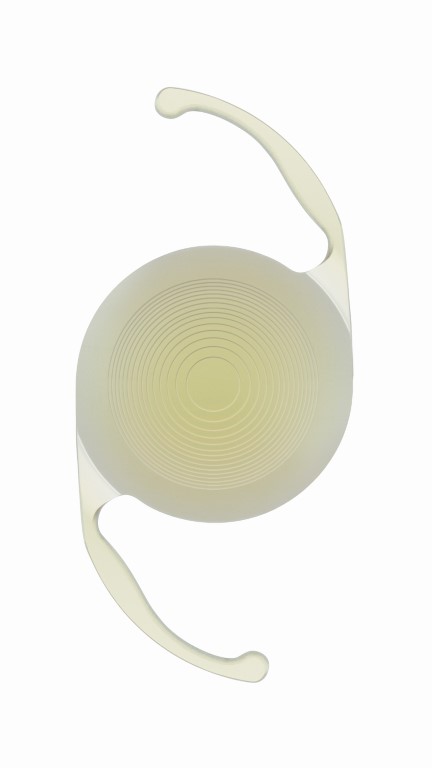 We're excited to announce that we currently have the Alcon AcrySof® IQ PanOptix® trifocal intraocular lens (IOL) at Georgia Eye Physicians & Surgeons. These innovative new lenses use the latest science and technology to correct presbyopia and cataracts in a single surgical session. Since 2015, the PanOptix lenses have shown superior results for many patients outside the United States. Within the U.S., these lenses are currently only available at Georgia Eye Physicians & Surgeons and a few other select ophthalmologists. We're one of the first practices in Georgia to offer these incredible new IOLs.
The PanOptix lenses were just approved by the Food & Drug Administration (FDA) for the treatment of presbyopia here in the U.S. They'll most likely be widely available in the U.S. sometime this year, but they're available today for our patients. Several studies, as well as regular clinical use, have shown these lenses to "provide enhanced image quality and more comfortable near-to-immediate vision." In the foreign markets in which PanOptix IOLs have been used, they've already nearly overtaken older types of multifocal IOLs.
One of the most exciting features of PanOptix lenses is their ability to perform in differing light conditions. While other IOLs have difficulty adjusting to a fluctuating pupil size—which occurs when lighting conditions change—PanOptix lenses deliver a full, continuous range of vision in virtually all levels of illumination. This represents an enormous leap in the possibilities for vision improvement in cataract and presbyopia patients. PanOptix lenses outperform other IOLs, light or night.
We're thrilled to have the chance to offer these cutting-edge IOLs for our patients before most other ophthalmology practices, but what's most gratifying is the opportunity to improve our patients' vision in new, superior ways. Please know, however, that patients with certain eye conditions, such as retina, macula, or cornea issues, are not currently eligible for PanOptix IOLs. Furthermore, people with severe dry eye may not be eligible, though it must be severe to disqualify a patient.
If you're interested in correcting your or a loved one's vision problems with these cutting-edge IOLs, or any of the many other services we offer, contact Georgia Eye Physicians & Surgeons to schedule an appointment today. Be sure to follow Dr. William Segal and Dr. Marc Lay on Facebook and Twitter for more eyecare information, fun facts, and the latest news and updates about eye health.