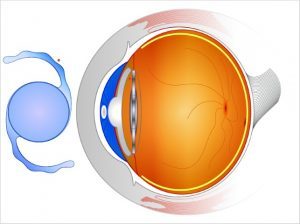 "Toric lens" is a phrase that's known mostly among eyecare professionals. As a patient, however, understanding more about your treatment options can help you take better care of your health and feel more in control.
A toric lens has two different types of lens surfaces, each with a different level of optical power. The main purpose of this type of lens is to correct astigmatism, a common refractive error that causes blurred vision and makes people see "halos" around light sources like TVs. However, a toric lens can also address nearsightedness and farsightedness. Any main category of corrective lenses (glasses, contacts, or intraocular lenses) can offer toric lenses, but today we're focusing on what makes toric intraocular lenses so useful.
Astigmatism affects approximately one in three Americans and occurs when the eye's cornea or natural lens is irregularly shaped. Additionally, the American Academy of Ophthalmology (AAO) reports that, by the time they're 75 years old, over half of Americans will have cataracts (a condition that causes clouding of the natural lens inside the eye). During cataract surgery, which can be performed with a scalpel or laser-assisted technology, a skilled surgeon removes the clouded lens. We then replace the natural lens with an artificial intraocular lens (IOL), and toric IOLs like Alcon's ReSTOR +3 Multifocal Toric allow ophthalmologists to treat both cataracts and astigmatism during one surgical procedure. Because both vision conditions are so common, toric IOLs offer a significant advantage for ophthalmologists and patients alike.
The ReSTOR +3 Multifocal Toric is a relatively recent development. In late 2016, it became the first toric multifocal lens to be FDA-approved in the United States. Its foldable design allows surgeons to implant it through a smaller incision than some other IOLs, and because it's multifocal, it gives patients with cataracts and astigmatism the ability to see clearly from varying distances after surgery. Patients can regain their general vision and more confidently engage in everyday activities, whether it's enjoying a crisper picture on the television or keeping themselves and others safer on the road. Furthermore, this IOL can greatly reduce or even eliminate a person's need for glasses or contact lenses.
People using multifocal lenses sometimes experience halos, glare, and/or a glistening effect in their vision, but in Alcon's initial clinical studies, over 90% of patients reported little or none of these effects. Any negative side effects appear to be minimal or unnoticeable in the vast majority of patients, and most people with these IOLs are satisfied with their improved or restored vision. As long as patients attend their follow-up appointments after surgery and communicate any questions or concerns to their doctor, the risk of any complications or harmful side effects is vanishingly small. Vision improvements appear immediately or within a week of surgery.
If you're interested in laser cataract surgery, traditional cataract surgery, correcting your vision problems with IOLs, or any of the many other services we offer, contact Georgia Eye Physicians & Surgeons to schedule an appointment today. Be sure to follow Dr. William Segal and Dr. Marc Lay on Facebook and Twitter for more eyecare information, fun facts, and the latest news and updates about eye health.