Cataract Surgery in Atlanta
PERFORMED IN DULUTH, GA (NORTH OF ATLANTA) at Georgia Eye Physicians & Surgeons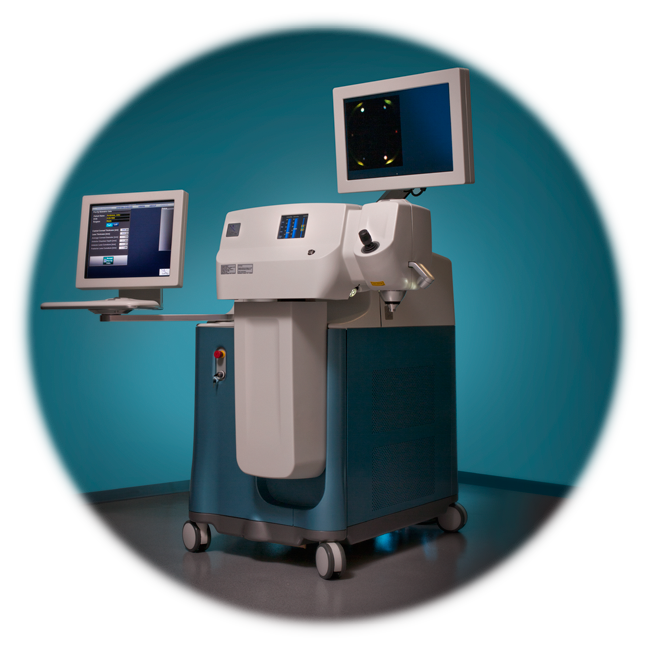 In the early stages, a cataract might be nothing more than a small cloudy spot or an overall brownish tinge in the vision and is best treated with new eyeglasses, brighter lighting, anti-glare sunglasses, or magnifying lenses. However, as the condition grows worse over time, patients generally notice that the cloudy areas in their visual field grow larger and more distorted, or that the overall brown or yellow tinge in their vision grows darker until it is difficult to read or perform other routine activities. At this point, I can perform cataract surgery, a relatively quick and painless procedure that removes the damaged lens of the eye and replaces it with an artificial intraocular lens (IOL) composed of plastic, acrylic, or silicone.
Cataract surgery is a short procedure, usually lasting less than thirty minutes, and can be performed on one or both eyes as necessary.  Using the computer-guided LenSx® laser, the newest and most advanced technology available, Dr. William Segal makes a tiny opening in the lens capsule that is up to ten times more precise than those made during a manual cataract procedure. Through this opening, the damaged lens can be safely removed and a new artificial intraocular lens can be implanted into the lens capsule. There are several different types of intraocular lenses (or IOLs) available, ranging from the relatively simple and inexpensive monofocal IOLs, designed to treat either nearsightedness or farsightedness, to the premium ReSTOR® multifocal lenses that can easily switch focus between close and far distances.  The type of intraocular lens used is determined by the patient's individual preferences and an evaluation of their specific vision needs.
At each stage of the surgery, any potential sources of error are minimized or even eliminated with the assistance of the Verion™ image guided system. This high-resolution computerized display instantly performs key diagnostic measurements while following the patient's eye movements in real time, providing pinpoint targeting of the highly specific contours of each individual eye. The combination of LenSx® laser technology and the Verion™ image guided system makes cataract surgery safer and more effective than ever before and allows Dr. Segal to consistently achieve exceptional results.  After cataract surgery, patients have much clearer and sharper vision, and many find that they no longer even need prescription eyeglasses.
Cataract surgery is not necessarily the right choice for every patient, so a comprehensive medical examination is necessary in order to determine whether you are specifically a candidate. Dr. William Segal performs cataract surgery at our East Atlanta Eye Surgery Center in Lawrenceville. Individual procedures for each eye can be spaced as soon as one week apart, if requested. After surgery, patients will receive medicated eye-drops to promote healing and will usually see improvement in their vision as soon as the day after surgery, with optimal results achieved in about a month.
To learn more about cataract surgery and the other eye surgeries offered at Georgia Eye Physicians & Surgeons in Duluth, GA (north of Atlanta), please contact our office.

Frequently Asked Questions about Cataract Surgery
How old does a patient need to be to undergo cataract surgery?
Cataracts are much more common in older patients and, in fact, represent the single most common cause of blindness in adults over the age of forty. However, although more than half of Americans over the age of sixty-five do have cataracts, the condition actually can affect younger patients as well.  Infants are sometimes born with cataracts as a result of an infection, an injury, or improper development. Certain medical conditions, like diabetes or traumatic eye injury, can also precipitate their development in patients of any age.  Because cataracts affect each individual differently, and because they tend to develop gradually over time, it is best to consult with an eye physician and evaluate how specifically your cataracts are affecting your lifestyle before deciding on the right time to undergo cataract surgery.
Is there a non-surgical option available for treating cataracts?
Unfortunately, the specific mechanism that causes cataracts to form in some patients and not in others is still not entirely understood. Once cataracts begin to form there is no medical treatment that can reverse the process. There are ways, however, to reduce your risk. Several scientific studies have found that excessive exposure to ultraviolet radiation (like that present in common sunlight) or regular cigarette smoking can significantly increase an individual's likelihood of developing cataracts, so taking steps to protect your eyes and leading a healthy lifestyle could potentially prevent or delay the formation of cataracts. Moreover, since cataracts tend to develop slowly, simply updating your eyeglass prescription, using brighter lighting, or wearing anti-glare sunglasses may be sufficient to alleviate symptoms in the earliest stages.