At Georgia Eye Physicians and Surgeons, we understand that vision problems affect anyone, regardless of their race, age, or gender.  However, we also know that there are certain groups, like seniors, that can be particularly vulnerable.  In fact, it is estimated that by the age of sixty-five one in three Americans will have developed some form of vision-limiting eye disease, like cataracts or glaucoma.  Unfortunately, the expense of comprehensive medical eye exams and vision treatment can sometimes be prohibitive for patients who are retired and on a fixed income or who do not have the necessary insurance.  This is one of the reasons why Dr. William Segal is one of the over 6,000 ophthalmologists who volunteers with the EyeCare America® program.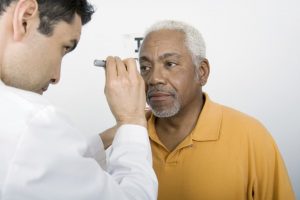 A foundation of the American Academy of Ophthalmology, EyeCare America® is a public service program dedicated to preserving sight by raising awareness about eye disease and improving access to medical eye care.  Board certified ophthalmologists who work with this program, like Dr. Segal, provide basic eye care services to US citizens and legal residents who qualify through one of two specialized programs.  The Seniors Program connects eligible seniors (aged 65 and older) with local volunteer ophthalmologists for a medical eye exam at no out-of-pocket cost, and up to one year of follow-up care for any condition diagnosed during the initial exam.  Similarly, the Glaucoma Program provides a glaucoma eye exam at no cost to certain eligible patients, specifically those who are uninsured, have not had an eye exam in twelve months or more, and who are at an increased risk for glaucoma, as determined by their age, race and family history.  This award winning program is available to patients all across the country and has helped more than 1.8 million people since it was started in 1985.
Eye conditions tend to progress gradually, particularly in older patients, and it is possible that you may not notice that there is a problem until significant damage has already been done.  That is one of the reasons why the American Academy of Ophthalmologists recommends that patients aged sixty-five and older undergo a comprehensive medical eye exam every one to two years, depending on their individual medical history.  Regularly scheduled eye exams allow Dr. Segal or our consultative optometrist, Dr. Marc Lay, to monitor changes in your eyes over time and keep your vision sharp.  If you are concerned about any changes that you may have observed in your own eyesight or would like to learn more about whether you qualify for the EyeCare America® programs, please contact Georgia Eye Physicians and Surgeons to schedule an appointment.  Don't forget to follow us on Facebook, Twitter, and Google+ for more to keep your vision healthy.