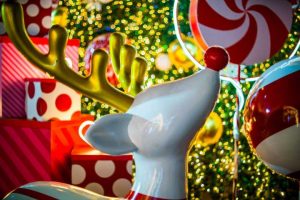 The holiday season is upon us, and at Georgia Eye Physicians and Surgeons we always like to take a little time out around this time of year to reflect on where we are, where we are going, and the great patients who make it all possible. For nearly twenty years, it has been both an honor and a privilege to provide a full array of routine eye care, eye disease treatment, and refractive eye surgery to patients of all ages, many of whom have been kind enough to share their stories in our Spotlight Patient blogs. We sincerely wanted to say thank you, and that we look forward to being able to do so for many years to come.
This past year we have continued to provide our patients with a comprehensive array of vision services. Using our state-of-the-art LenSx® cataract laser, board certified ophthalmologist Dr. William Segal has performed numerous intraocular lens replacement procedures, helping men and women suffering from cataracts to see more clearly. Our on-site optical center, led by Consultative Optometrist Dr. Marc Lay, is currently one of the only practices in the Atlanta area to offer the Ultimate Lens Package, a special deal on top-of-the-line Essilor single vision and progressive eyeglass lenses. Georgia Eye Physicians is proud to be able to meet all of our patients' eye care needs.
Next year will be bringing some additional excitement as well. In June of 2018, Dr. William Segal will be traveling to Honduras with the Eradicating Cataracts Honduras Outreach, or E.C.H.O. Foundation. There he, along with other eye physicians, will be providing vital eye care services to patients in need. Currently fewer than ninety ophthalmologists are performing cataract surgery in Honduras, where there are approximately 160,000 people suffering from the condition. Work done by the ECHO Foundation has resulted in more than 6,000 sight restoring surgeries to date and every additional mission trip brings us a small step closer to solving this national problem.
Here at Georgia Eye Physicians and Surgeons, the future has never looked brighter and we hope that we have been able to bring just a little bit more light into your worlds as well. We know that none of this would have been possible without your support. If you are concerned about your vision and would like to schedule a comprehensive medical eye examination, or if you have any other questions about your eye health, please feel free to contact Georgia Eye Physicians and Surgeons to schedule an appointment today. Don't forget to follow us on Facebook, Twitter, and Google+ for more information on how to keep your vision healthy, and from all of us here at Georgia Eye, may you enjoy a safe and happy holiday season!