At Georgia Eye Physicians & Surgeons, we've been privileged to establish meaningful relationships with a myriad of patients over the years. It's difficult to express just how much we value these relationships, so when a patient reaches out to express their appreciation, we're always eager to share their thoughts with our readers. Today, we're excited to bring you a profile of one of our wonderful patients: Terry.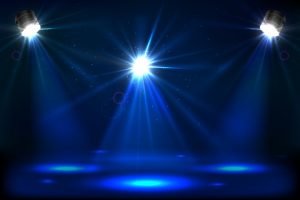 Terry is the manager of a very busy doctor's office, as well as an avid antique and hidden-treasure hunter, so keen eyesight is essential to her lifestyle. She noticed she was having trouble seeing clearly, and although the problem only seemed to be getting worse, she kept putting off a trip to the eye doctor. Everything seemed hazy, her eyes felt dry, and her vision was obviously suffering. However, because Terry thought her eye problems were just from staring at her computer screen too much, she didn't think they constituted an emergency. This went on for a little over a year, until Terry eventually stopped using her reading glasses altogether, as they were no longer helping her. That was when she knew she needed to see an ophthalmologist.
Because Terry manages a busy doctor's office, she's familiar with many medical professionals in the area. Terry had seen Dr. Segal for more routine eyecare needs in the past. Based on Terry's previous experience with Dr. Segal, along with his reputation among other referrals, Dr. Segal and the team at Georgia Eye Physicians & Surgeons seemed like the clear choice when she suspected she might have a serious problem.
After examining Terry's eyes, Dr. Segal determined that she had cataracts. Terry had to have surgery to correct the issue, but she was relieved to learn that the procedures could be spaced out. "I did one eye at a time," she says, "and I couldn't believe how well I could see after having just one eye corrected. I also couldn't believe that I didn't have any discomfort. I went out to lunch with my daughter immediately after the surgery—it was that easy." Terry has now had cataract surgery on both eyes, and she's indicated that her vision has vastly improved.
Another positive aspect of Terry's experience that she emphasizes over & over is her interaction with the team here at Georgia Eye Physicians & Surgeons. "[Dr. Segal]'s always been very nice," she says, "and his office & surgical staff go above & beyond. They're so polite—I've never encountered an office with such a nice, polite, and professional staff. And as someone who manages a medical office, I know a lot of people who work in this field. At Georgia Eye, it's just so noticeable & consistent."
When asked if she'll come back to Dr. Segal and the team at Georgia Eye if she ever needs another eye procedure, Terry didn't hesitate. "Definitely," she says. "As a matter of fact, I do have to have another surgery, and when I'm ready to have it done, I'll definitely come back to Dr. Segal." We're truly honored to have earned the trust of Terry and countless other patients over the years. If you're currently a patient of Dr. William Segal or Dr. Marc Lay and, like Terry, would be interested in sharing your experiences, or if you'd like to schedule an appointment with us, please contact Georgia Eye Physicians & Surgeons. Be sure to follow us on Facebook and Twitter for more patient stories, tips for healthy eyes, and the latest eye-health news and updates.