Welcome back to the latest installment in our ongoing Spotlight Ophthalmology Testimonial of the Month blog series. Letting our patients tell their own stories is so rewarding to us. Not only do these testimonials allow us to receive feedback from our patients, but these positive affirmations can be incredibly helpful and reassuring for patients who are new to our practice.
This month we are spotlighting Robert, a patient who came to our practice with issues related to cataracts. Robert is an artist, working primarily on an iPad, whose work depends critically on his close-up vision. Unfortunately, his vision suffered due to cataracts in both eyes which led to different focus concerns in each eye. He tried contact lenses, but had no real success. After some frustration with his insurance provider, Robert visited with Dr. William Segal to discuss his options. They agreed that manual cataract surgery on both eyes (one week apart) using multi-focal lenses would be the most beneficial surgical path, and the results have been outstanding.
Keep reading to hear Robert discuss his experience at Georgia Eye Physicians & Surgeons in his own words:
"While the lead-up to my procedure was stressful due to insurance and determining my best options, I am ecstatic with how it all turned out. The day after surgery I had my follow-up appointment and was told that I now have 20/20 vision. I immediatel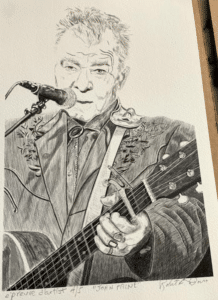 y decided to go ahead with the surgery on my other eye. Dr. Segal gave me great direction and he took the time to discuss all of the potential outcomes. After surgery, my vision was amazing, both near and far. I resumed work on an illustration and quickly noticed that I was seeing much clearer with amazing focus. When I'm working or driving around, I'm amazed at seeing a beautiful new world with brighter and more intense color and detail.
Dr. Segal and his staff are world-class and I highly recommend them. I was treated with respect and I began to think of them as good friends who sincerely cared about me. They turned a nervous and stressful situation into an amazing experience."
Before we conclude, we wanted to thank Robert for sharing his story with us. It's always so rewarding to know that the eye care services we provide have really made a positive impact on the lives of a patient. If you would like to share a story of your own or book an appointment with our expert ophthalmologists, please contact Georgia Eye Physicians & Surgeons today. Don't forget to follow us on Facebook for more patient stories, eye care tips, and much more. And ask us about our new surgical center in Lawrenceville.