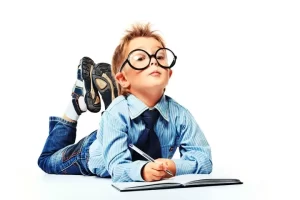 In honor of Children's Eye Health and Safety Month, the eye care professionals here at Georgia Eye Physicians & Surgeons wanted to take some time to discuss what parents should know about vision issues for kids. It's very common for children, especially younger ones, not to mention or complain about any vision issues they are having. This is why so many vision disorders in children go undiagnosed and untreated for far too long. With this in mind, we wanted to discuss common vision issues for kids, as well as how they can be avoided and treated.
Some common vision issues for children include refractive errors that lead to nearsightedness, farsightedness, or astigmatism. These errors result from light not correctly focusing on the retina, leading to blurry or unclear vision. Other issues to be aware of include Amblyopia (lazy eye), Strabismus (crossed eyes), and convergence insufficiency, which can affect the way images appear in close range. Without proper diagnosis and treatment during the childhood years, these correctable vision issues can lead to permanent adult vision loss.
The most critical thing a parent can do to help avoid this is to commit to regular vision exams. Vision exams for kids should start between the ages of 3 – 5 and continue through the childhood years. Due to the personal nature of vision, undergoing a vision screening and professional eye examination is often the only way for parents, teachers, and others to fully understand how well a child sees. According to the American Academy of Ophthalmology (AAO), children who require corrective lenses should undergo an eye exam once every year, and children who do not require corrective lenses should have their eyes checked once every two years.
In the case that an eye exam indicates that a child is experiencing a correctable vision issue, prescription eyeglasses can often be incredibly beneficial. However, it's important to remember that children's eyesight can (and likely will) change as they grow. It's crucial to keep vision prescriptions current and to continue with regular eye exams as kids age to prevent and detect any additional or recurring issues as the years go on.
Whether your child is starting a new school year, or is just generally in need of having their eyes checked, the experts here at Georgia Eye Physicians & Surgeons have you covered. For more information on our professional eye care services, contact Georgia Eye Physicians & Surgeons to schedule an appointment today with Dr. William Segal or Dr. Marc Lay. Don't forget to follow along with us on Facebook for more eye care tips, practice news, and much more.