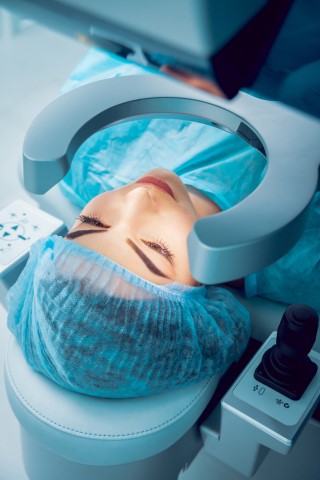 Cataracts are an extremely common eye-health issue throughout the world. As such, cataract surgery is one of the most common eye surgeries performed on the planet. Most of these surgeries are traditional procedures (meaning they use a scalpel instead of a laser), partially because many places throughout the world lack access to the laser-enabled equipment needed for this relatively new technique. At Georgia Eye Physicians & Surgeons, however, we have the most advanced technology, expertise, and resources needed to perform laser cataract surgery, which offers additional precision and consistency.
Traditional cataract surgery (phacoemulsification) has high rates of safety and success, but laser technology may improve upon these qualities. Traditionally, an ophthalmologist can fix cataracts by using a scalpel to create a tiny incision in the side of the cornea and using a microsurgical instrument to make a small opening just behind the pupil. Then, sound waves are used to break up the cloudy material in the eye(s) and suction that material out. After that, your cloudy lens can be replaced with an artificial intraocular lens (IOL). In both traditional and laser cataract surgery, stitches are usually not needed; the side walls of the incision are filled with a special self-sealing liquid.
At Georgia Eye Physicians & Surgeons, Dr. William Segal uses several different types of advanced technology to get the most accurate and consistent results possible. First, an imaging device is placed over the eye to map its surface via ultrasound. This highly detailed, highly accurate information is then sent to a computer, which in turn programs the exact incision depth, location, and size needed for a safe and successful cataract surgery. From this point, the laser-assisted cataract surgery works very similarly to the traditional method, but a laser is used to make the incisions instead of a scalpel. The laser's energy may be used to soften the cataract, but the same ultrasound probe used in traditional cataract surgery is then used to break up the affected lens and suction it from the eye.
Both traditional and laser-assisted cataract surgery have similar, relatively brief recovery periods. It can take a week or two following the procedure for a patient's vision to fully reflect the benefits of the surgery, but some people have clearer vision almost immediately. It technically takes about three months to fully recover from either type of cataract surgery, but you should feel pretty much back to normal (and see better than before) within a couple of weeks.
Regardless of the type of cataract surgery you choose, it's crucial that you choose an experienced, board-certified, and skilled surgeon to perform your procedure. At Georgia Eye Physicians & Surgeons, we're proud of the team we have, the cutting-edge equipment we use, and the stellar results we achieve. If you're interested in using lasers to improve your vision, or any of the many services we offer, contact Georgia Eye Physicians & Surgeons to schedule an appointment today. Be sure to follow Dr. Segal and Dr. Lay on Facebook and Twitter, and don't forget to come back soon for more helpful eyecare information.