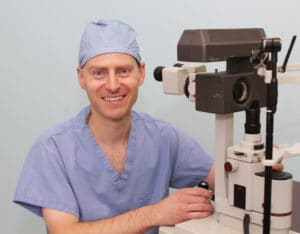 The eye care experts here at Georgia Physicians & Surgeons pride themselves on providing our patients with the very best in professional eye care services. Knowing we are making a difference in the lives of our patients by treating their vision issues is incredibly rewarding, it's also a phenomenal honor to be acknowledged by our peers for the outstanding care that we provide. That's why we are incredibly proud to announce that Dr. William Segal has been selected as Top Doctor in the field of Ophthalmology for 2022 by Georgia Trends Magazine.
Each year, Georgia Trend takes time to identify Top Doctors from a wide variety of medical fields, including general care physicians, surgeons, and many more. Top Doctors designations are made through a voting process of medical professionals in the state of Georgia. The results were verified by DataJoe Research using a review of government sources to ensure authenticity. This is the third year that Georgia Trends has compiled their list of Top Doctors in Georgia.
Dr. William Segal is the founder of Georgia Eye Physicians & Surgeons and a board-certified ophthalmologist. He has extensive knowledge and considerable experience diagnosing and treating a wide variety of common vision issues and symptoms including cataracts, astigmatism, blurred vision, and many more, as well as eye-related migraines and glaucoma. Dr. Segal is an active fellow of the American Academy of Ophthalmology. He is passionate about staying up-to-date on the most current eye care technologies including laser eye surgery techniques and PanOptix® trifocal intraocular lenses (IOLs).
We want to congratulate Dr. Segal for receiving this recognition and thank everyone who helped make this possible. That includes everyone at Georgia Trend, our whole medical team here at Georgia Eye, and of course, our incredible and loyal patients. If you would like to schedule an eye care appointment with Dr. William Segal or Dr. Marc Lay, please contact Georgia Eye Physicians & Surgeons today. Don't forget that you can follow along with us on Facebook for more practice news, eye care tips, and much more. And ask us about our eye surgery center in Lawrenceville.