As summer approaches and the end of the school year draws near, proud parents all over the country may be seeking the perfect graduation gift to express the pride they feel.  In recent years, the trend has expanded from watches or stationary sets towards something that really symbolizes "looking ahead" to the next chapter in life: LASIK eye surgery.  Board-certified ophthalmologist Dr. William Segal of Georgia Eye Physicians and Surgeons has been performing LASIK eye surgery to correct vision problems and reduce or eliminate the need for eyeglasses or contact lenses for over a decade.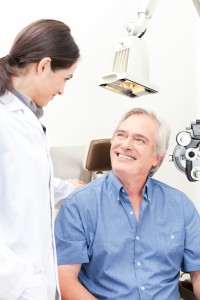 Since LASIK vision correction was first approved for use by the FDA in 1998, the popularity of the procedure has sky-rocketed.  According to the American Academy of Ophthalmology, approximately 700,000 Americans have the procedure each year and the vast majority of patients are happy with their results.  Ideal candidates for LASIK surgery are patients over the age of eighteen who suffer from nearsightedness (myopia), farsightedness (hyperopia), or astigmatism.  During the procedure, Dr. Segal uses an excimer laser to reshape the cornea, allowing the eye to focus light more clearly.
LASIK corrective surgery often offers improved vision without the hassle of glasses or contact lenses.  Many patients achieve 20/25 vision or better after refractive surgery and more than 8 out of 10 patients who've undergone refractive surgery no longer need to use their glasses or contact lenses for the majority of their activities.  Individual results depend on the patient's specific refractive error as well as other factors.  People with a low grade of nearsightedness tend to have the most success with refractive surgery, while those with a high degree of nearsightedness or farsightedness along with astigmatism have less predictable results.  Moreover, while the cost of LASIK may seem high, it is actually quite reasonable when compared to twenty to thirty years of contacts or eyeglasses, especially when you consider the cost of lenses, solution, office visits, broken frames, etc.  Many consider LASIK an investment that improves their lifestyle for years to come.
If you have questions about LASIK procedures, or would like to schedule an appointment for an eye exam, please contact us today to make an appointment. Be sure to follow Georgia Eye Physicians and Surgeons, P.C. on Facebook, Twitter, and Google+ for more tips for healthy eyes.