At Georgia Eye Physicians & Surgeons, we know we wouldn't be where we are without our patients. After all, having such amazing patients to care for inspires us to continuously challenge ourselves to provide the best care possible. We put our hearts and souls into what we do, and we're incredibly excited when a patient wants to share their Georgia Eye experience. This month, we're featuring a longtime patient of ours named Earline.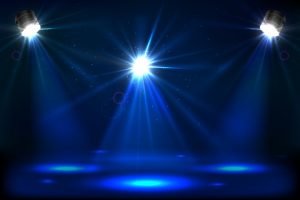 Earline's big heart and positive attitude make her a pleasure to be around. Married for 51 years and counting, Earline is a lover of people—family, friends, and neighbors—and animals. "Dr. Segal knows I love animals," she says. "I have 50 bird feeders in the back of my home, and I feed the deer who come through my backyard. We have eight new baby deer we're watching grow up right now." Earline loves to provide food for local animals, and she also fixes meals for her neighbors and friends who can't do it for themselves.
Earline found out she had cataracts about twelve years ago. However, she decided to wait until her retirement eight years ago to have cataract surgery. Once her professional working life was behind her, Earline came to Georgia Eye Physicians & Surgeons to have cataract surgery with ReSTOR® intraocular lenses (IOLs). "God and Dr. Segal gave me brand new eyes," says Earline. "I'm a diabetic and a cancer survivor, so my insurance company recommended I see an ophthalmologist. And I'm so glad I found Dr. Segal."
We especially appreciate Earline's kind words, as she's not one to give praise unless she feels it's well deserved. "I adore Dr. Segal," she says. "I won't give testimonials for a lot of people, but I will definitely give one for him. Because he's wonderful. I'm very, very, very happy with the results of my surgery, and Dr. Segal deserves to win any kind of medical award there is. I had to wear glasses since age twelve, but I no longer have to, thanks to Dr. Segal's work."
Earline certainly has a soft spot for Dr. Segal, but she also expresses a strong affinity for the rest of the Georgia Eye team. "The wonderful staff never disappoints me," she says. "They're always super busy, but they always take the time to take care of me. I really appreciate that." She also says that, when she needs eyecare in the future, there's no other surgeon and team she'd rather put her trust in. "I would definitely have another procedure with Dr. Segal if I had to," she says. "In fact, I had to have a minor procedure done after my cataract surgery, and I went to him for that."
When our patients share their positive Georgia Eye Physicians & Surgeons experiences with us, it reminds us of why we try our very hardest every day. If you're currently a patient of Dr. William Segal or Dr. Marc Lay and, like Earline, would be interested in sharing your experiences, or if you'd like to schedule an appointment with us, please contact Georgia Eye Physicians & Surgeons today. Be sure to follow us on Facebook and Twitter for more patient stories, tips for healthy eyes, and the latest eye-health news and updates.