At Georgia Eye Physicians & Surgeons, we understand that eye surgery can be intimidating and even downright scary to some people. Although modern techniques and technology make eye surgery extremely safe and effective, people tend to feel that their eyes are particularly vulnerable. To be especially protective of your eyes is a reasonable, natural, and healthy impulse, so we admire patients who overcome their fears and put their trust in us. That's why, for this month's spotlight patient, we're showcasing someone who did just that—and is now enjoying crystal-clear vision.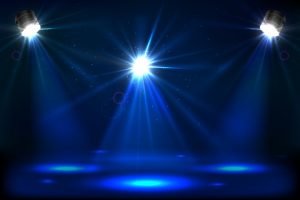 Penelope is a retired grandmother with two now-grown children. She's been seeing Dr. William Segal and the rest of the Georgia Eye team since 2012, and today, she's pleased to be able to call her vision "fantastic." When she first started noticing issues with her eyesight, Penelope learned from another doctor that she had cataracts. However, before she was ready to decide on the proper course of treatment, Penelope's doctor retired. Fortunately, her daughter-in-law had been to Dr. Segal and brought up Georgia Eye as a recommendation.
When Dr. Segal examined Penelope, he determined that cataract surgery and a multifocal intraocular lens (IOL) implant would be the best treatment for her condition. Like many people who need eye surgery, Penelope was anxious about the procedure. "One thing I loved about Dr. Segal was that he didn't put any pressure on me," she says. "I was absolutely terrified, so I waited almost a year before I had the surgery. But I'm so glad I worked up the courage to do it. It worked out great!"
After removing Penelope's cataracts, Dr. Segal used AcrySof® ReSTOR® IOL implants to further improve her vision. Beyond simply fixing the cloudy vision caused by her cataracts, these IOLs helped improve Penelope's overall vision. She was surprised by just how big of a difference the surgery and IOLs made, as well as how much easier the process was than she'd originally thought it'd be. "There was no pain whatsoever," she says. "It was simple, I got great care, and I was just thrilled after the procedure. Medicine has come a long way!"
In addition to a laser procedure a few years after that initial surgery, Penelope has been having her routine and comprehensive medical eye exams at Georgia Eye since 2012. "I can't imagine going anywhere else," says Penelope. "I can't say enough good things about Dr. Segal. He's very thorough. He explains everything in plain English, then goes into great detail about it. And I'm glad he's a young man, because that means I can keep going to him for a long time."
It wasn't just Dr. Segal who impressed Penelope. "Dr. Segal's nurses were the best in the world," she says. "They were very attentive, caring, funny—the whole operation was just amazing." Thanks to cataract surgery and IOLs, Penelope can enjoy her hobbies and everyday life in ways she wouldn't otherwise be able to. She has a deep appreciation for things that might be easy to take for granted, such as going to the ballet and Botanical Gardens, reading, and taking care of her cats. That last one is especially important to her—in some circles, Penelope is affectionately known as "the cat lady."
It's incredibly fulfilling to hear patients describe their positive experiences with Georgia Eye. If you're currently a patient of Dr. William Segal or Dr. Marc Lay and, like Penelope, would be interested in sharing your experiences, or if you'd like to schedule an appointment with us, please contact Georgia Eye Physicians & Surgeons today. Be sure to follow us on Facebook and Twitter for more patient stories, tips for healthy eyes, and the latest eye-health news and updates.