Glaucoma, a condition that occurs when the build-up of fluid pressure inside the eye damages the optic nerve, affects an estimated 2.2 million Americans.  Unfortunately, because the disease is poorly understood, only about half of those affected even realize that they have it.  Understanding the progression of the disease, and having your eyes checked annually, can help you avoid the worst of the symptoms and maintain healthy eyes and clear vision for many years to come.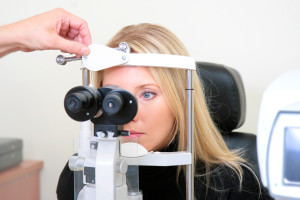 A clear fluid, called the aqueous humor, flows continuously in and out of the eye's anterior chamber, located in the front of the eye, just behind the lens.  As it leaves through the open angle where the cornea and iris meet, it flows through a spongy meshwork, not unlike a drain.  In open-angle glaucoma, the most common form of the disease, the fluid passes too slowly through the meshwork drain.  As the fluid builds up, the pressure inside the eye rises to a level that may damage the optic nerve which ultimately results in vision loss.  Without treatment, people with glaucoma will slowly lose their peripheral (side) vision.  At first they may merely miss objects to the side and out of the corner of their eye.  However this can often go unnoticed, as people will unconsciously turn their heads to compensate.  Eventually, as peripheral vision deteriorates, they will seem to be looking through a dark tunnel and, over time, straight-ahead (central) vision may decrease until no vision at all remains.
Not every person with increased eye pressure will develop glaucoma.  It depends largely on the level of pressure your optic nerve can tolerate without being damaged, and some people can tolerate higher levels of eye pressure better than others.  Additionally glaucoma may also be caused by injury to the eye, severe eye infection, or any condition that causes inflammation or a blockage of blood vessels in the eye.
Although there is no cure for glaucoma, and vision lost as a result of the disease cannot be restored, there are a number of different treatments for glaucoma that can slow its progression, especially if it is caught early.  This is one of the reasons why regular comprehensive dilated eye examinations are so important.  As the disease has virtually no symptoms in its early stages, management with medicated eye drops can, in many cases, successfully lower eye pressure and help prevent future blindness.  Laser therapy, like Lumenis® SLT, which Dr. William Segal performs in our office, can often provide long term control and reduce the need for regular eye drop medication.  Finally, at Georgia Eye Physicians and Surgeons we have recently begun to make use of the iStent® Trabecular Micro-Bypass device, which is implanted in the eye during a procedure similar to typical intraocular lens replacement surgery and works to improve the eye's natural fluid outflow, lowering its internal pressure.
If you are interested in any of the many services we offer, or would like to make an appointment for a comprehensive eye exam, please contact Georgia Eye Physicians and Surgeons today. Be sure to follow Dr. Segal and Dr. Marc Lay on Facebook, Twitter, and Google+ for more tips for healthy eyes.