Glaucoma, an eye condition affecting over 60 million people worldwide, is the second leading cause of irreversible blindness.  While there is no cure of the underlying disease, there are a number of different treatments that can alleviate the most serious symptoms of glaucoma, effectively delaying its progression and preventing vision from worsening.  One of the most effective long-term treatments that we have found at Georgia Eye Physicians and Surgeons, P.C., is the FDA-approved iStent® Trabecular Micro-Bypass medical device.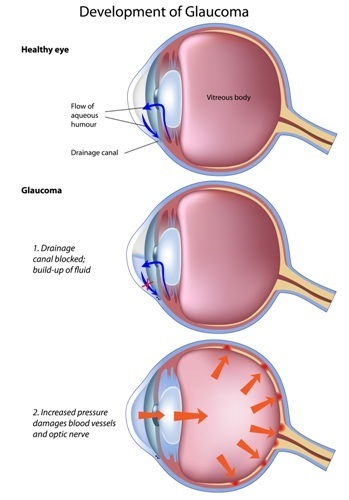 Under normal circumstances, a clear fluid, or aqueous humor, flows continuously into and out of the eye's anterior chamber.  However, in the case of open-angle glaucoma (the most common form of the disease) this fluid passes too slowly through the spongy meshwork where the cornea and iris meet.  This causes a slow build up in pressure that can eventually begin to damage the optic nerve and cause vision loss.  The iStent® Trabecular Micro-Bypass is a tiny device, 20,000 times smaller than an intraocular lens (IOL), that works by bypassing the affected meshwork.  It safely and effectively improves the eye's natural fluid outflow by creating a direct path for fluid to flow between the fluid-filled chamber of the front of the eye and the major collector channel that directs the fluid out of the eye, bypassing the obstructed area.
The iStent® can be implanted inside the eye during intraocular lens replacement surgery, which is usually performed in order to remove and replace a natural lens that has become cloudy, usually as a result of worsening cataracts.  This tiny, L-shaped device, which measures only 1 millimeter long and 0.33 millimeters high, is the smallest medical device ever approved by the FDA and is so small that you won't be able to see or feel it after the procedure is over. In a United States Clinical Study, 68 percent of patients who received the iStent® have remained medication free for 12 months, visual acuity significantly improved, an no complications from the surgery were observed.
If you are interested in any of the many services offered at Georgia Eye Physicians and Surgeons, or would like to make an appointment for a comprehensive eye exam, please contact us today. Be sure to follow Dr. William Segal and Dr. Marc Lay on Facebook, Twitter, and Google+ for more tips for healthy eyes.