Dealing with any changes in your vision can be frightening, especially if you cannot find a doctor who will really listen to your concerns or clearly communicate what needs to be done.  For example, you might think that you could trust your doctor to tell you if you were developing a serious vision problem, but sadly that is not always the case.  Just ask Dale, our Georgia Eye August 2016 Spotlight Patient.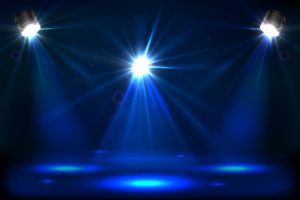 "I had been having trouble seeing at night for years," explained Dale, a 66 year old retired retail clerk with six children and ten grandchildren.  "It had gotten so bad, between the cloudiness and the glare, that I had to stop driving at night altogether.  I mentioned it to my doctor several times but he never told me what the problem really was."
Dale had been slowly developing cataracts, a common condition that occurs as the eye gets older and protein deposits in the lens clump together, creating cloudy areas that partially obscure vision.  Symptoms of growing cataracts usually include a subtle darkening or cloudy spots in the field of vision, as well as an increased sensitivity to glare, particularly at night.  Because cataracts develop slowly, and do not seriously impact vision in the early stages, they can be difficult to detect without a full comprehensive eye exam.
"When I complained to a friend how frustrated I was with my eyesight, she immediately suggested that I go and see Dr. William Segal," said Dale.  "I have never undergone such a thorough eye exam before.  There were four or five different machines that all tested different things about my eyes.  I was very impressed.  Dr. Segal explained everything in layman's terms but never talked down to me.  That's important, no matter what kind of doctor you are."
Dr. Segal recommended that Dale undergo cataract surgery, which involves removing the damaged and clouded lenses and then replacing them with artificial intraocular lenses, or IOLs. Dale opted for monofocal IOLs, which work by placing a lens optimized for distance vision in one eye and a lens optimized for close range vision in the other.  Dr. Segal performed the actual procedure using the computer-assisted LenSx® cataract laser, and Dale could not have been happier with the results.
"I had to be there for the procedure at 6:00 in the morning, and I expected the staff to be grouchy and groggy, but everyone I saw greeted me with a big smile.  That went a long way towards making me feel comfortable.  Then Dr. Segal came in and talked to me personally, even before I was taken in.  He explained everything step by step as we went along and I didn't feel a thing.  The whole thing was over in less than an hour."
"Now I don't even need contacts anymore," Dale explained.  "Dr. Segal even fixed my astigmatism.  I can't tell you how nice it is to be able to get up in the middle of the night and not have to worry about tripping around or looking for glasses.  And the most important thing, the evening after my surgery, Dr. Segal called me personally to check and see how I was doing.  When I mentioned that I was surprised he didn't have someone on his staff make the call, he explained that he always made these calls himself, so that if patients had any questions he could answer them completely, right away.  That meant a lot to me.  I was very impressed."
If you are a previous patient interested in sharing your experience with Dr. Segal, or a new patient with questions about the health of your eyes and the procedures that we perform, please contact Georgia Eye Physicians and Surgeons.  Be sure to follow us on Facebook, Twitter, and Google+ for more patient stories and tips for healthy eyes.