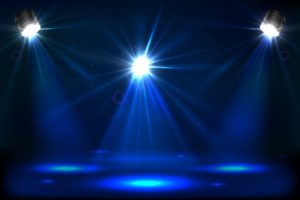 Welcome back to our first Spotlight Ophthalmology Testimonial of the Month blog of the new year. For anyone unfamiliar, we use these posts to allow our eye care patients the opportunity to discuss their unique experiences with Georgia Eye Physicians & Surgeons and explain the impact that our eye care services have had on their lives. To help get the new year started off on the right foot, we are excited to shine the spotlight on Kent, a patient of ours who recently underwent double laser cataract surgery performed by Dr. William Segal.
Kent is a retired computer programmer living in Duluth. After years of slowly worsening vision, his cataracts finally began to really take a toll on his day-to-day life. He was no longer able to work on the computer or safely drive. He had to strain to even be able to see his phone screen. After researching local eye doctors and practices for some time, Kent was referred to us by an eye doctor at his local Wal-Mart. As you will read, his experience with Dr. Segal speaks for itself:
"My experience was excellent. Every question I had was answered in a prompt and satisfactory manner. I always felt informed. I had no issues with any paperwork or red tape, despite not having health insurance at the time. I underwent laser cataract surgery to correct cataracts in both of my eyes. I had one eye and then the other at a separate procedure later. I initially wanted them both done at the same time, but ultimately was very glad Dr. Segal helped me decide against this. Because of a backup at local surgery centers, I had to wait longer than normal to have my second eye done. Thankfully, Dr. Segal was able to pull some strings and schedule me in to have my second eye done in a timely manner.
The results were unbelievable. Before my surgery, I barely wanted to get out of bed. Now I feel like I can actually experience my life again. Just being able to read, drive, enjoy TV shows again; it's a night and day difference. Friends who have had this surgery previously told me that they could see immediately following their procedure. I was skeptical of this, but they were right. I couldn't believe how well I could see once my surgery was finished and how much better it kept getting in the ensuing days.
I would recommend anyone with cataracts to have this surgery done, to not to wait as long as I did, and to come to Dr. Segal for their surgery."
We want to thank Kent, and all of our previous spotlight patients, for taking the time to share their kind and thoughtful stories with us. It means so much to know that our work is really making a difference in the lives of our patients. For more information or to book an appointment with our expert ophthalmologist or optometrist, please contact Georgia Eye Physicians & Surgeons today. You can follow along with us on Facebook for more patient stories, eye care tips, and much more. Don't forget to ask us about our new eye surgery center in Lawrenceville.