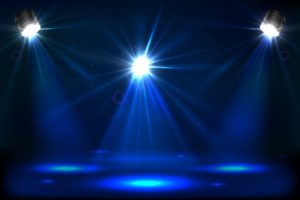 We are so excited to present our latest Spotlight Patient of the Month blog, where we show how our full service eye care services have positively impacted the lives of our patients. Hearing back from our patients is very important to us. In addition to being incredibly rewarding for our ophthalmologists and staff, reading these testimonials is also instrumental in helping prospective patients feel more assured about treating their vision issues. This month, we'll be focusing on our patient Rachel and her experience with Dr. William Segal.
Rachel is a long-time patient of ours who began coming to Georgia Eye Physicians & Surgeons over 15 years ago. She initially visited Dr. Segal after developing a severe case of Shingles, including a rash very close to her eye. Rachel was so happy with the care she received at our office that she continued to visit us for her check-ups and routine eye exams, as well as cataract surgery on both eyes and laser surgery for glaucoma.
To hear more about Rachel's unique experience here at Georgia Eye Physicians & Surgeons and how Dr. Segal was able to provide the care and expertise she needed, hear it in Rachel's own words below:
While completing a follow-up visit following my glaucoma surgery, I showed Dr. Segal a painful, blistering rash that had developed on my hands. He immediately suggested that perhaps I should try Plaquenil to clear the rash, as he had worked with many patients who have had this condition in the past. The side effects of this medication can sometimes lead to serious eye problems, so he assured me that he would monitor the condition of my eyes frequently. After my dermatologist and rheumatologist confirmed that Plaquenil would be the best medication to help clear my rash, I have been seeing Dr. Segal frequently to monitor the condition of my eyes.

Every time I'm in this office, I know I will be receiving the best possible treatment and care. This follow-up care, as well as my previous surgeries and procedures, has greatly improved my vision and my quality of life. I feel confident in each and every situation that I can expect the most professional eye care from Dr. Segal and the whole staff at Georgia Eye Physicians & Surgeons.
We want to thank Rachel for taking the time to share her story with us and our readers. Hearing such positive feedback lets us know that we are doing our jobs right and that our patients are more than satisfied with the care they receive in our office. For more information on our services or if you would like to book an appointment with us, please contact Georgia Eye Physicians & Surgeons today. Don't forget, you can follow along with us on Facebook for additional patient testimonials, eye care tips, practice updates, and much more.