On Saturday, April 26th, 2014, Dr. William Segal and his team will be taking part in the Walk to End Lupus held in Piedmont Park by the Lupus Foundation of America (LFA).  The Atlanta Walk, the largest LFA walk in the nation, plans to host over 8,000 walkers in an effort to raise funds and awareness for lupus, an unpredictable and potentially fatal autoimmune disease that affects 55,000 Georgians.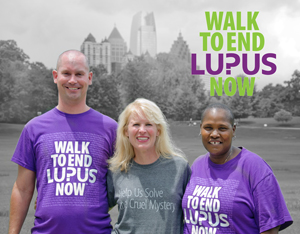 The Lupus Foundation of America is devoted to "solving the mystery of lupus while giving caring support to those who suffer from its brutal impact."  They sponsor research, education, and advocacy programs to improve the quality of life for all people affected by lupus.  Ninety percent of every dollar donated stays in Georgia, providing free statewide lupus programs and resources, including a support group network, nine statewide symposiums and seminars, and six college forums.  Dr. Segal and the Georgia Eye Physicians and Surgeons family maintain a longstanding relationship with the LFA, and Dr. Segal has personally served as a member of its Medical Advisory Board for almost 10 years.
Lupus is a poorly understood disease, one that has garnered little in the way of public attention.  It is Dr. Segal's hope, as well as the hope of his team and the Lupus Foundation as a whole, to let Georgia know that this is a worthy cause and to "take Lupus awareness from a whisper to a shout."  So come out to Piedmont Park on Saturday, April 26th, 2014 and support Dr. Segal and 8,000 others in uniting against this disease.  To learn more about how you can contribute, check out Dr. Segal's team page!
Be sure to follow Georgia Eye on Facebook, Twitter, and Google+ for more tips for healthy eyes.