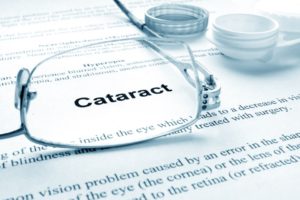 Here at Georgia Eye Physicians & Surgeons, we are passionate about treating common vision issues and eye health concerns. However, we are equally committed to educating our patients on these topics so that they can understand their eye health and take a proactive approach should a vision issue emerge. In honor of Cataract Awareness Month this August, our board-certified Ophthalmologist, and Optometrist wanted to discuss this extremely common issue and help our readers know what warning signs to keep an eye out for.
A cataract causes the lens of the eye to become cloudy and murky. This cloudiness may result from a natural change in the protein which makes up the lens. As this occurs, light rays are not able to pass through the lens and focus on the retina, a tissue lining responsible for responding to light. The result is compromised vision that can become dull and blurry over time.
Cataracts can affect anyone, but they grow increasingly more common in people as they age. Over 24.4 million Americans over the age of 40 currently experience cataracts. And nearly half of all Americans age 75 and over have cataracts. The incidence of cataracts is slightly higher in women than men.
In its earliest stages, a cataract may not cause any vision issues at all. This is due to the cloudiness only affecting a small part of the lens. However, as the cataract grows larger over time, it can affect more of the lens and make it difficult to see clearly and sharply. Other common cataract symptoms to be aware of include:
Sensitivity to light or the appearance of a halo around lights
Difficulty seeing well at night
Double vision
Colors seeming dull or faded
Increased sensation of nearsightedness
Thankfully, cataracts can be safely and effectively treated. The first step is diagnosing the issue. This is done by performing an eye exam that may include dilating the pupils and performing a visual acuity test. Once a diagnosis is made, cataracts can be addressed with the help of cataract surgery. We offer both traditional and the newest laser cataract surgery options that can help improve a patient's vision by replacing the cloudy lens with a new clear artificial intraocular lens (IOL). The results are typically fantastic and very little downtime is needed for recovery.
Our eyecare experts have decades of experience diagnosing and treating cataracts for patients of all ages. If you'd like to discuss cataracts or any other eye health issues, contact Georgia Eye Physicians & Surgeons to schedule an appointment with our expert ophthalmologist or optometrist. You can also follow along with us on Facebook for more eye care tips, news, and much more.