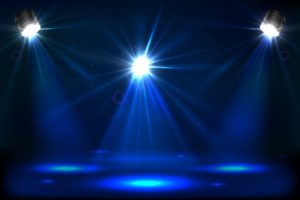 We are excited to welcome everyone back to our recurring Spotlight Ophthalmology Testimonial of the Month blog series. This is where we shine a spotlight on our former eye care patients and let them tell their own stories about their experience with us here at Georgia Eye Physicians & Surgeons. This month, we wanted to present the story of Deborah, who first made an appointment with us last May when her primary care physician recommended it following a routine eye exam.
Deborah knew for years that she needed stronger prescription lenses, but had no idea that she had cataracts in both eyes until meeting with Dr. William Segal in our office. As someone who has very sensitive eyes ("I'm one of those people who can't even insert eye drops into my own eyes"), she was initially hesitant to pursue cataract surgery. WIth the assistance of HydroEye solution tear duct plugs in both eyes, Deborah's eyes were ready for surgery. We will let her tell the rest in her own words:
"Dr. Segal assured me that he would numb my eyes with drops and I wouldn't feel any pain. They were in before I even realized it! He earned my trust that day and his soothing and comforting coaching during the surgeries enabled me to stay calm and have both surgeries performed without any anesthesia.

Both my husband and I were extremely impressed with the entire experience. Dr. Segal is a skilled surgeon with a confident, knowledgeable, informative and reassuring staff that he can be proud of. I felt comfortable from the minute I walked in the door and everything was explained to me to my satisfaction each step of the way. Everyone was so kind and Elizabeth did a fantastic job scheduling everything and providing me with charts to track the 294 eye drops that would be required by the time all was said and done!

The Bottom line is I'm now seeing in high definition and would give both Dr. Segal and his staff at Georgia Eye Physicians & Surgeons a Gold Star rating! I'll definitely be singing your praises for some time to come."
We don't take this praise lightly and want to thank Deborah for leaving us such kind words. It means so much to know that the eye care services we perform at our practice can have this kind of profound impact on our patients and their loved ones. For more information or to book an appointment with our expert ophthalmologist or optometrist, please contact Georgia Eye Physicians & Surgeons today. You can follow along with us on Facebook for more patient stories, eye care tips, and much more. Don't forget to ask us about our new eye surgery center in Lawrenceville.